GUTGAA (Gearing Up To Get An Agent)
My Meet and Greet Intro and Question Responses: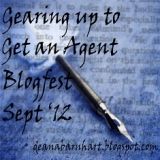 The Intro:
I'm a retired educator, and I've been writing as long as I can remember. I wrote creative stuff as early as third grade (a play based on Helen of Troy so I could cast myself as Paris and Linda Leonard as Helen – she had great freckles), an illustrated story in sixth grade, called My Journey to Mars in a Time Machine (apologies to both Edgar Rice Burroughs and H.G. Wells, two of my early literary favorites), and a variety of other stabs at plays, poetry and short stories all through high school and college.
Much of my creative impulse was pushed aside after that for work-related writing (reports, grant-writing, etc.), but ten years ago, I realized I had a few novels in me that didn't want to stay buried. I have a complete first draft of one (a thriller, The Jagged Man – I'll start revising it sometime this fall); and finished a major fourth revision of the novel that will probably either kill me or (hopefully) make me famous. It's huge (I know – big problem), but my last revision trimmed it down from 280,000 words to 240,000 (about 130 less pages). Also, I just participated in the 3-Day Novel Contest, finishing (in three days, of course) a very short novella or a very long short story (an eighty-six page, 20,300 word supernatural medical mystery) called Everything's Okay at Restful Pines. Plus, I have a partial first draft of a third book that will likely become a several-part series. Enough to keep me from playing in traffic.
My wife and I live just north of Houston, Texas. We have been married for thirty years. She's a quilter, but we were both actors back in the 1980's, and we met each other at an audition. We were both cast in the play, started dating a month into rehearsals, and were married six months later. It's a testimony to her strength of character that she's managed to put up with my weirdness all these years.
The Questions:
Where do I write?  I have created a corner space in our study, no windows near the corner to distract me (see pic below). I built bookshelves which surround most of three sides of the room, plus one shelf which juts out from the wall, partially closing my space off from the rest of the room, giving me some privacy and surrounding me with my writing and reference books, and my novels. I attached a series of angled shelves to the bookshelves to hold my monitor and keyboard and to be my desk.
Look to my left at my writing space. What do I see? I see my laptop. I like to be able to go portable sometimes, but at home, I use a 22" monitor, and a Bluetooth keyboard and mouse, so I can have a larger screen (to give me room for a browser window and notes on one side of the screen, and for my manuscript on the other side).
Favorite time to write? None in particular. Maybe early morning, with a fresh cup of coffee, before anyone else is up.
Drink of choice while writing? The above mentioned coffee, blended two parts decaf, one part high octane, a tiny bit of sugar, and slug of milk or cream. I also like my tea the same way (cream and a sprinkle of sugar).
When writing, do I listen to music, or do I need complete silence? Both. No music when I'm alone in the room. When I'm in a coffee shop (ie., any noisy space) or when my wife is reading political blogs across the room (she has very vocal opinions sometimes), my headphones go on and I play some music I like (Sigur Rós, Dave Matthews, Yo-Yo Ma – Bach's Cello Suites, Radiohead, Seryn, Fanfarlo, Elbow, etc.), often just to create white noise to counter the room ambiance.
What was my inspiration for my latest manuscript, and where did I find it? Two weeks before the 3-Day Novel Contest, I didn't know what I was going to do. We got a call, at 3:00 in the morning, from the assisted living facility where my wife's parents (both in their nineties) are living. My wife's mother was wandering at night, and grabbed a china hutch in their apartment to steady herself. It came crashing down on her and knocked her to the carpet. The china hutch hit the opposite wall (fortunately, it was in a narrow passageway) so she was unharmed, just slightly bruised. My mind went into overdrive. What if someone had rigged the hutch to fall, but it failed? Would they try again? How? That became the plot of the Restful Pines story.
What's my most valuable writing tip? Don't give up. If you have to write, you'll write, so don't talk yourself out of it. Oh, and plant your butt in the chair and stay there, fingers to the keyboard.
That's my Intro. I hope you enjoyed it. Please feel free to leave a comment. I'd love to hear from you.
Michael